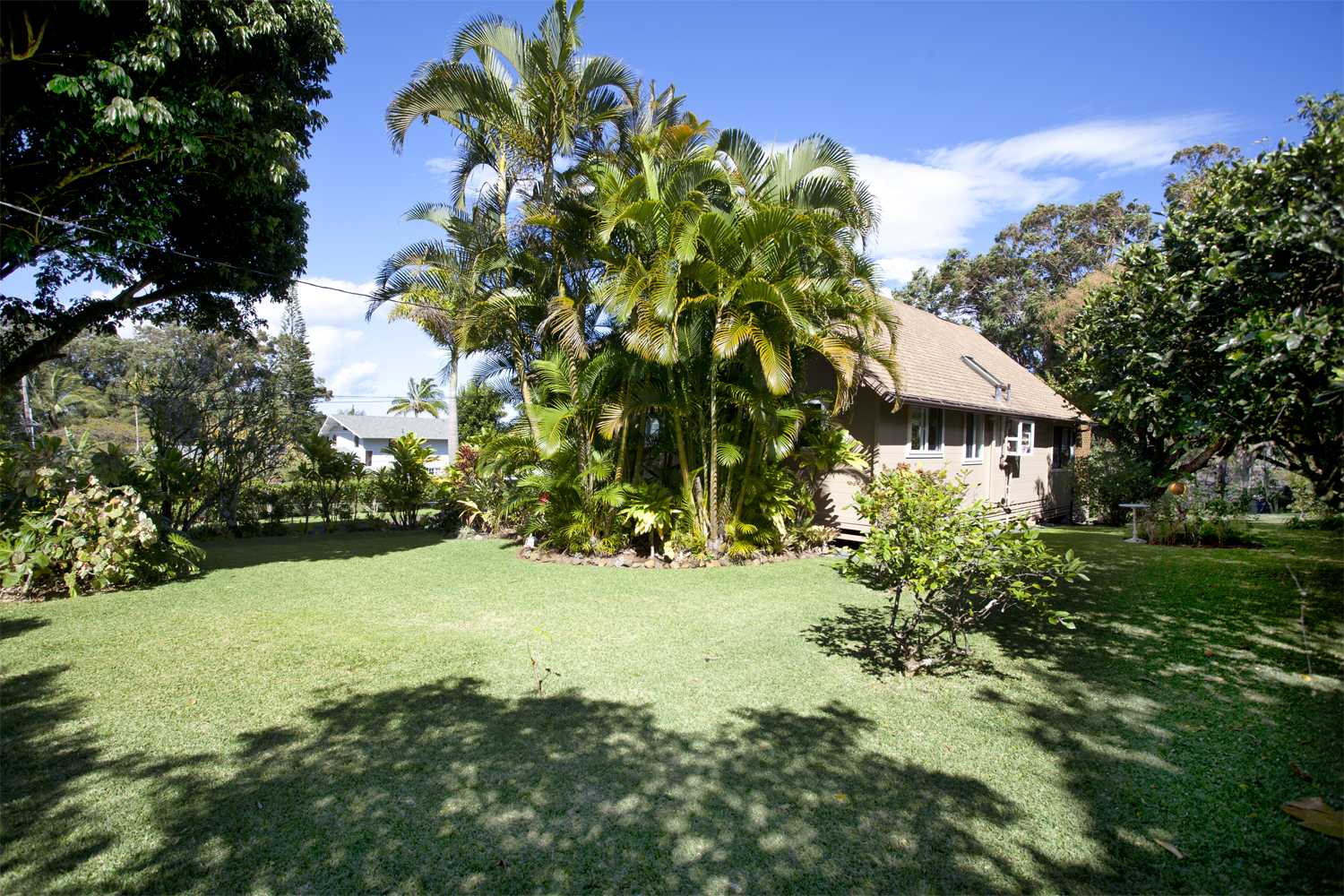 Lychees and mangoes flavor this quaint country home with a Pacific Northwest cabin feel to it in Haiku, Maui. All of this is embodied in the Stice Team's newest listing (MLS# 364008). 485 Ulumalu Rd. is a 3 bed/2 bath home in immaculate condition on a gently sloping half acre that is just the right size to provide enough space and privacy but not being too much to maintain. This is a tastefully done Lindal cedar home and its construction is perfect for Haiku's weather conditions.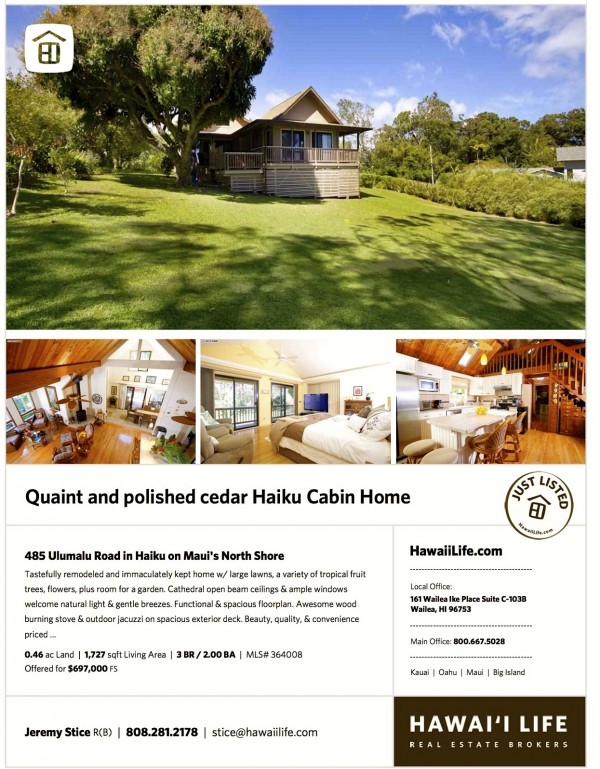 485 Ulumalu Rd. Open House Saturday, 2/21 From 2-5 PM
Members of the Stice Team will be holding the house open this Saturday for a couple hours and we encourage you to come see it as this is the first time we will be showing the property.
How Do You Envision a Tropical Hawaiian Property?
I bet tropical fruit trees, flowers, and trade winds blowing warm sweet smelling air all year around is a good start. How about a half-acre level lot with a home perfectly designed to bring the best of the outside inside of the home accentuated with spacious decks and views of the gardens and trees?
There are grassy lawns around the entire home and several lychee trees, a large mango tree, which in addition to bearing delicious fruit does shelter some areas of the deck from direct sunlight, orange trees, and avocado trees. The sellers have remarked that these are some of the sweetest oranges and creamiest Hass avocados around.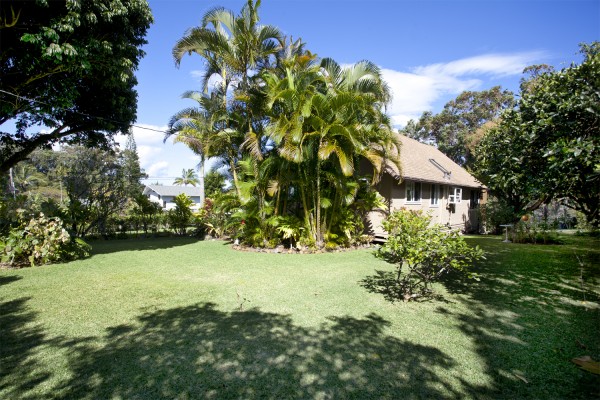 The yard is a gently sloping half-acre, but not so big that you have to spend all your free time taking care of it, yet is large enough for a healthy garden and lots of fruit trees. It is well landscaped with mature trees to enhance its sense of seclusion. The best part of living on the edge of a tropical jungle is that you get enough rainfall to maintain nice trees, ornamental flowers, and your yard; we get enough regular rainfall, all year-round, that you will just have to keep things maintained, not watered.
Tastefully Remodeled in 2005
The sellers of this property gave the interior of the home a facelift and the addition of a large master suite in 2005. The floor plan is functional and the master bedroom suite does have a very nice sense of privacy as it is a bit set apart from the rest of the home. Another nice touch is that there is direct access to the wrap-around deck directly from the sliding door in the master. For that matter, all of the bedrooms have a nice degree of separation from another.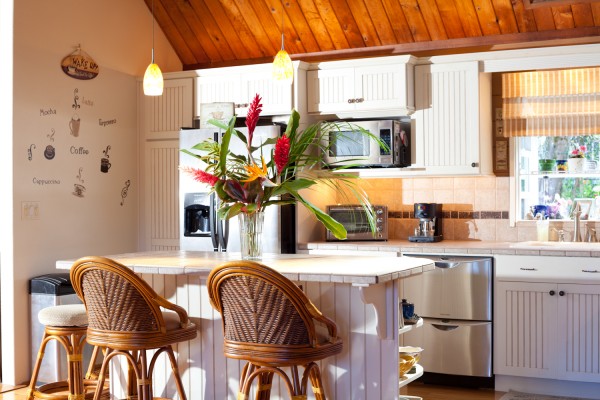 The sellers added some attractive white plantation style cabinetry in the kitchen, which blends seamlessly with the cedar interior. To spotlight its contemporary makeover they also added newer stainless steel appliances and light colored tile countertops. One of the other informal bedroom setups in the room is the loft, which overlooks the kitchen and living area.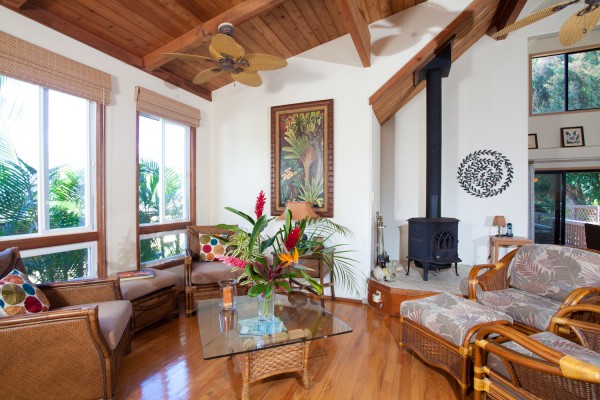 When entering the front door of the home, you immediately feel the cozy warmth of the wood above (cedar) and below you (bamboo flooring). The living room is highlighted with a wood burning stove to inspire conversation and timeless memories of family and friendship. The cathederal open beam ceilings enhance the spacious feeling as well as being very attractive in their own right. To invite natural light and warmth there are many windows framed on the interior with dark hardwood creating a handsome contrast to the white walls.
Outdoor Living/Entertaining Area
One of the most stand out aspects of this home are the outdoor decks, which provide ample room for entertaining, dining, and relaxation. Just like the rest of this property, the sellers have regularly painted and treated the decks to a meticulous standard to ensure their functionality. These decks provide the perfect arena to feel the breeze, smell the flowers, and listen to the birds sing their beautiful songs. There is an ample sized Jacuzzi on these decks which further adds to the cabin ambiance.
Beauty, Quality, & Convenience Priced to Sell
With prices climbing steadily since 2011, this house is priced very competitively in the Haiku market. With the rare offering of similar sized lots in the area, this home represents a value that you could not duplicate by purchasing a vacant lot and building new. The best part is you can just move in right now, with just about nothing needed.
Haiku is about 30 minutes from Kahului and big box businesses. However, we do have Paia Town only 15 minutes away and Haiku Town Center is 8 minutes. In fact, Hanzawa's Store is only 3 miles away and they have gas, groceries, beer, and even Levi jeans for sale.
Full county utilities are on site with high speed internet via Oceanic Cable, or DSL via Hawaii Telcom. With county water, trash pickup, and a paved road one mile from the Hana Highway, you have quick access to everything. Check out my previous post on why I love my North Shore life.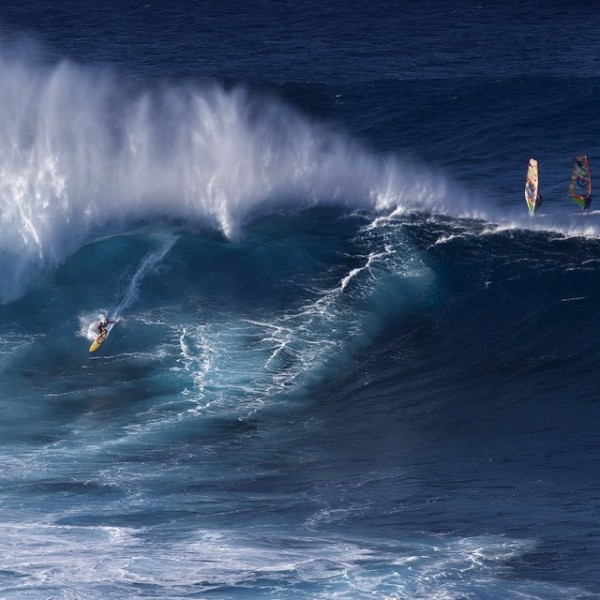 Photo credit: Tim Stice – taken at Peahi, Haiku, Maui "Jaws" on 1/21/15. Jaws is a short 3-minute drive from 485 Ulumalu Rd.
Maui Property is Valuable – Your Time is Priceless. We List & Sell Property, Properly.
Having lived in Haiku since 1978 (I am still on my 5 acres) and raising my 3 children (all born on the property) with my wife, Laura, I truly have a feel for the land, the community, and what it takes to prosper here.
My children are now all successful adults and my son, Jeremy, along with my nephew, Tim, are my business partners in real estate. We work as the "Stice Team" at Hawaii Life Real Estate Brokers and we are the top selling agents in Haiku. We know and love the area, so it is logical that we can best share that love with our clients.
If you want to talk about farming, real estate, surfing, cycling, canoe paddling, or living the Haiku life, please reach out to me. We look forward to sharing more information and details on this great home value. Please contact the Stice Team for more information or your personal viewing.
Aloha from the listing Brokers,
Tracy Stice, R(B) 808.281.5411
Tracy@HawaiiLife.com