Looking for seven acres along a stream, almost oceanfront, in Haiku, Maui? If so, try 715 Honokala Rd. on for size.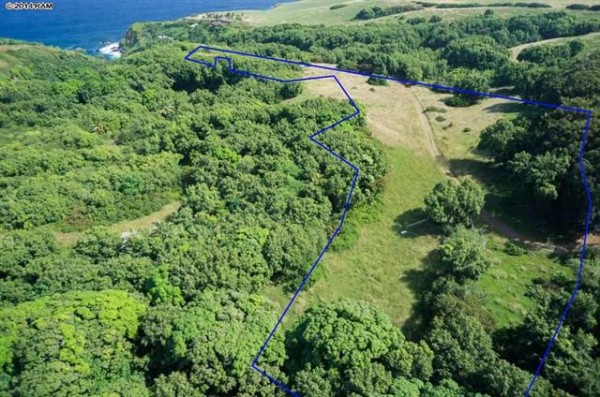 The blue outline shows the approximate property boundaries from a property survey overlay
This is a fantastic value at $550,000. If you are looking for a spot larger than the standard two acre lots you find on Maui at about the same price, you may want to consider this property (MLS# 361900). Located 1.5 miles off the Hana Highway in Haiku, Huelo, Maui, you have great roadway access and are a short hop to the civilized world.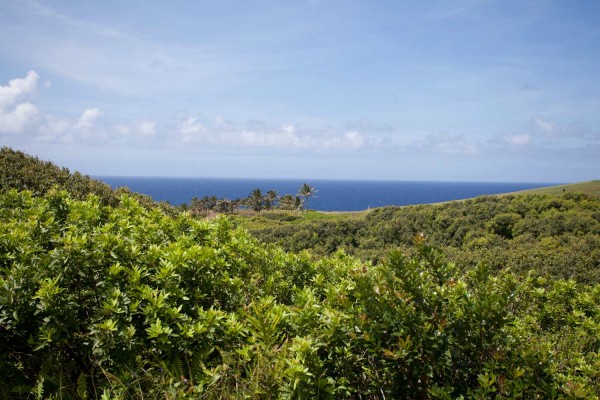 Property Features
There are several different sites for building with ocean views. This property has many options as it has a stream that crosses through that runs almost all the time. If you want to do some agriculture, there are several flat areas, currently in cow pasture, that should offer great productivity for your gardens and orchards.
About 3 of the acres follow along the stream and have huge old trees along both sides. There are some huge mango trees that could be 100 years old and a few tall old coconut trees too. With the varied topography, you have the option to create multiple sites for structures and gardens.
The property is being sold with a deeded easement over the adjacent 27 acres to a site that borders the oceanfront state owned property. A trail can be created from this spot to directly access the small bay below, which has great fishing and diving, and occasionally a very private surf break.
This area does not have any utilities available, so you will be a dedicated off the grid owner if you take the challenge. All nearby owners have water catchment tanks because the annual rainfall is around 70 inches. Power is generated by photovoltaic and wind systems. Internet is via satellite link.
If you don't want utility bills, and you want to eat what you grow, take a careful look at this sustainable property. Unspoiled by paved roads, street lights, and utility poles, you only have the blue Pacific, Haleakala Volcano, and the Milky Way in your view.
Aloha,
Tracy Stice R(B) 808.281.5411
Tracy@HawaiiLife.com