On December 12, 2015, the World Surf League, as part of its specialty big wave competition, held its inaugural event at Peahi in Haiku, Maui, Hawaii. The surf was incredible and live viewing was as good as it gets - for those who could get in. The WSL somehow managed to convince the world that they could legally block access to Jaws, and proceeded to block all vehicular access (except their buddies) at both Hahana Road and Oili Rd. They were also restricting pedestrians, citing safety reasons. They wanted to totally control access.
Jaws is most commonly ridden as a right, but when it sets up correctly, the lefts can be pretty spectacular too as shown above (Photo credit: Tim Stice)
To their defense, I agree with blocking vehicular access from the event. It is a zoo, with tourist cars stuck in the mud and local boys with their 4x4's driving through the fields, and it would make any emergency rescue impossible.
I first started watching tow-in surfing when a couple of my Boy Scouts from Troop 12 in Haiku, Cameron and Chris Layer, were talking about their next door neighbor, some guy named Laird, who was being towed in on a special board by a jet ski driven by Dave Kalama.
In 1997 or 1998, my buddy Dirk Solies, my son Jeremy, and I rode our mountain bikes down on Thanksgiving day just to check it out. We knew the surf was huge because we could hear the boulders rolling from my house 2 miles away. What we all saw was unbelievable - 70 foot faces - and we could not believe that Hamilton and Kalama were actually catching these monsters.
Shoreline Access in Hawaii is Held in Public Trust - Access is Open To All
Fast forward to the present day, each year Peahi, aka "Jaws," became more and more popular. Rodney Kilbourn sometimes tried to act like the mayor of Jaws and extort a fee from visitors who wanted to go watch. We just ignored him and went down anyway. We had been going there for years, hiking down to the shore, fishing, diving, and catching Opihi.
The shoreline is held in public trust in Hawaii and anybody is welcome to use it. Now, it has become so popular to view Jaws, especially since movies like Point Break and the WSL event, that it is truly impossible to keep people out.
So what happened and how did people get into the contest? This is where fear and sleuthing come to play. I knew there would be security and I was prepared to be arrested, but I was better prepared than the security guys were and this is where my sleuthing came to play.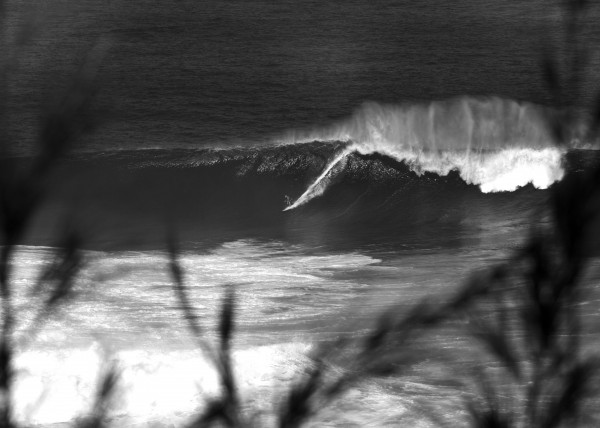 Jaws right captured by Tim Stice
Hawaii PASH Rights
I have been an active real estate broker for 37 years on Maui and have worked at the state legislature to help preserve public access to the shoreline; and to also limit liability for land owners who have access across their property to the shoreline. My first research showed that Alexander and Baldwin owned the property. Interestingly, they sold a 40-acre piece of it in December of 2014. Reading the deed to the buyers, a clause was inserted in the deed that reads:
Grantee, for itself, and its successors and assigns, acknowledges, covenants and agrees with and to Grantor, and its successors and assigns, that Grantee will observe, perform, comply with and abide by all of the covenants, conditions, restrictions, reservations and provisions contained in the Declarations, which includes, without limitation, the acknowledgement that public may use certain access easements for access to the coastline of the Haiku Sugar East Subdivision to conduct "traditional customary uses along the shoreline area" that may impact the development and use of the Property, and that the owners and occupants of the Haiku Sugar East Subdivision shall be prohibited from curtailing such "traditional customary uses" and shall minimize or eliminate any interference, nuisance, harm, or hazard to such "traditional customary uses."
Clearly the A & B attorneys recognized the public rights to access under the PASH ruling in 1995. They inserted the clause to make it very clear of the right of all people, not just Hawaiians have these rights. My conclusion was that if A & B had inserted this clause in the conveyance deed, then they also understand that the same rights exist for the rest of the parcel.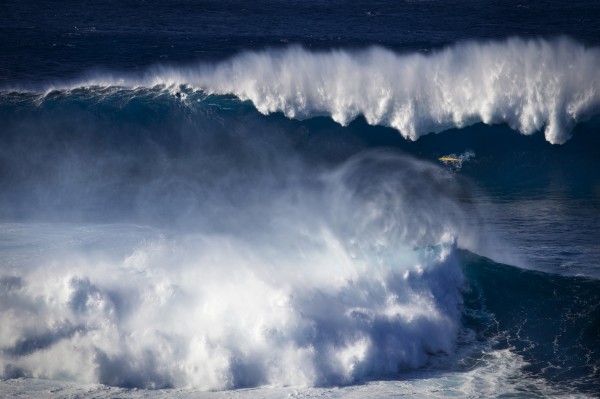 This is exactly why just about all of the riders at Peahi are now wearing drawstring full flotation vests
Our Fear and Loathing Journey
I printed a couple copies of the deed, gathered my bicycle buddies, Dave, Lance, Chika, and some visitors from Japan, taped a fishing pole to my bike frame, and we got ready to go. I made sure my wife, Laura, had enough cash ready to bail me out of jail and we took off, with a lot of fear, to Jaws.
As we approached the Oili Rd access, my heart was pounding, my head was spinning, and I remembered Hunter Thompson's story "Fear and Loathing in Las Vegas" that I had read in Rolling Stone while in college in 1971. Where was my attorney "Gonzo" now when I needed him?
Security was at the entry to the road. Since this was my idea, I told my buddies that I would take the arrest fall, like they do at the chicken fights on Maui. They pick one guy to get arrested when they get raided. Well, today was my day.
As we rolled up, three large local boys asked us where we were going. "Fishing," I replied. Their eyes rolled back in their heads. You could hear them thinking, "This is really one crazy haole - 50-foot surf and he is going fishing." They spoke in unison, "You can't go down there, the access is closed." I replied, "Not for fishing, it isn't." I reached into my bike bag, pulled out a copy of the deed, and said, "Read this." Puzzled, they said, "You guys really going fishing?" We rode on through.
Rolling down, we approached phase two of the maze. Three more guys were waiting for us. "Where are you guys going?" We all echoed, "Fishing!" We repeated the exercise, and they generously opened the gate for us. "We just doin' our job, Brah," they said as we rolled on down through the old pineapple field to the lookout on top of the cliff, arriving just in time to see Billy Kemper blast in on a massive 40-foot face.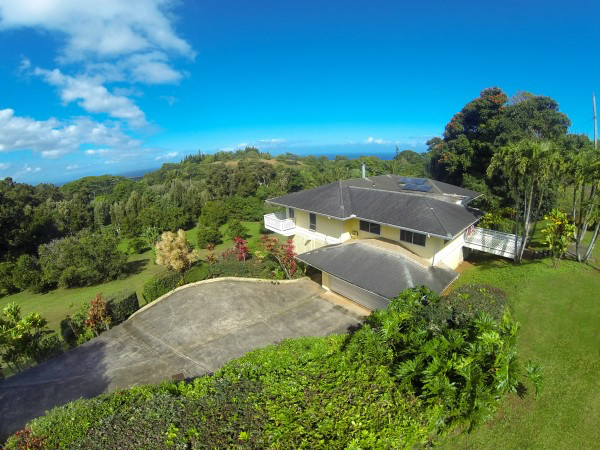 4323 Opana Place in Haiku is a property that our team has listed and is just up the road from Peahi
Why is This Such a Battle?
Why is it OK for the World Surf League, the Hawaii Department of Land and Natural Resources, and the County of Maui to deny pedestrian access to the shoreline? Claims of liability are a joke. If you are stupid enough to fall off the cliff, that is just evolution at work. There was more liability created by the mile of cars parked along both sides of the roads, opening doors into oncoming traffic, crossing the road in traffic, and then hiking 3 miles through a path that only a few old-timers know to use the graveyard access to get in.
Maui County owns 27 acres, right across the street from the graveyard, right up to the turn off to East Kuiaha and Haiku Road. It is time to get the county involved, create safe parking. The police are already there, so they could safely control pedestrian access. Jaws is not going away. Big surf is not going away.
Maui County, The Department of Land and Natural Resources, Alexander and Baldwin, and any event organizers have to stop breaking state law by limiting access to the shoreline.
Why not make it good for our visitors and locals alike? After all, the tourists pay a lot of our bills and if this gets done correctly, perhaps some revenue could be generated. We need to start thinking about next year, because Jaws is now a hot spot on the world map.
Agree or disagree? I welcome your comments and input here.
Aloha,
Tracy Stice R(B)
808.281.5411
Tracy@HawaiiLife.com