"I only want a small house in the country on an acre." Over the course of 37 years selling real estate in Haiku, Maui, I have had many calls asking for this. So many people want to escape suburban congestion, restrictive covenants, neighborhood committees, locked gates, and too many rules - to get away from it all and move to the country.
Try 705 Kauhikoa Rd. on for size, a 3 bed/2 bath home with a 2-car carport that was recently remodeled on 3/4 acre and is listed for $599,000 (MLS# 364523). There are new appliances, flooring, and the lot was completely gated and fenced. Move in tomorrow as it is ready for immediate occupancy.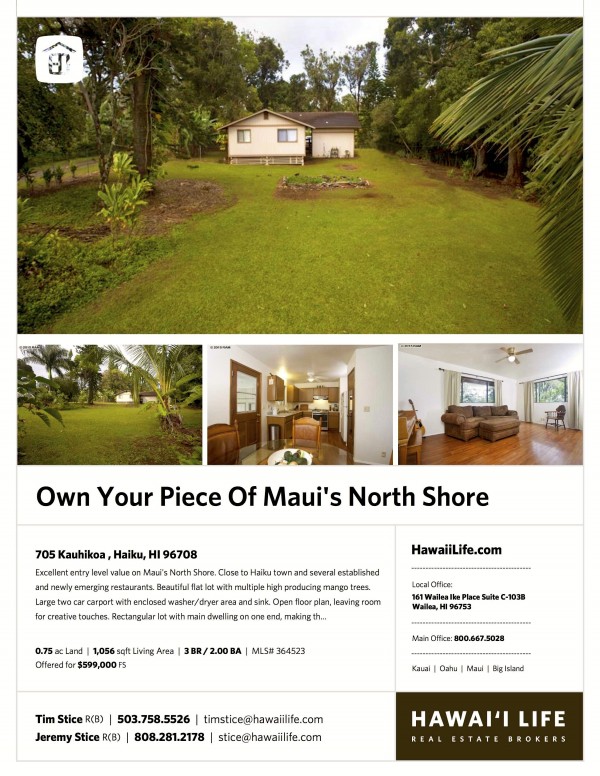 This is your chance to be free again, raise a few chickens, a duck or two, maybe have 3 big dogs, maybe add in a goat or two. You can even park your fishing boat in the yard alongside your arsenal of water toys, canoes, stand-up boards, and jet ski, because you will only be a mile from launch point at Maliko Bay for all the down winders, and Jaws take off spot in the winter.
Room to Expand
Since the yard is already loaded with mangoes, coconuts, and a bunch of other fruit trees, all you need to do is plant your garden and you will save a bunch of money at Whole Foods and Mana. Maybe you can even sell some of the extra. Can you eat more than 10 mangoes a day?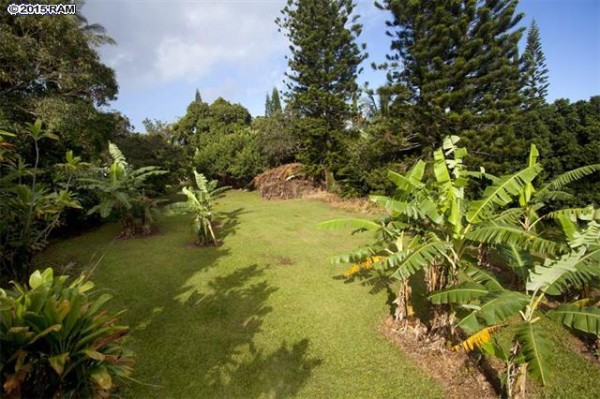 The backyard area is equally as flat as the front, has bannana and ti-leaf trees, and is very private. This would be a great location for a detached cottage.
Best of all, if you want to add a big workshop, boat garage, or even add a cottage, the zoning already allows you to do so. So give some thought to 705 Kauhikoa Rd., in Haiku, which is just outside of Haiku town.
Beauty, Quality, & Convenience Priced to Sell
With prices climbing steadily since 2011, this house is priced very competitively in the Haiku market. With the rare offering of similar sized lots in the area, this home represents a value that you could not duplicate by purchasing a vacant lot and building new. The best part is you can just move in right now, with just about nothing needed.
Haiku is about 30 minutes from Kahului and big box businesses. However, we do have Paia Town only 10 minutes away and the Haiku Town Center is 2 minutes away.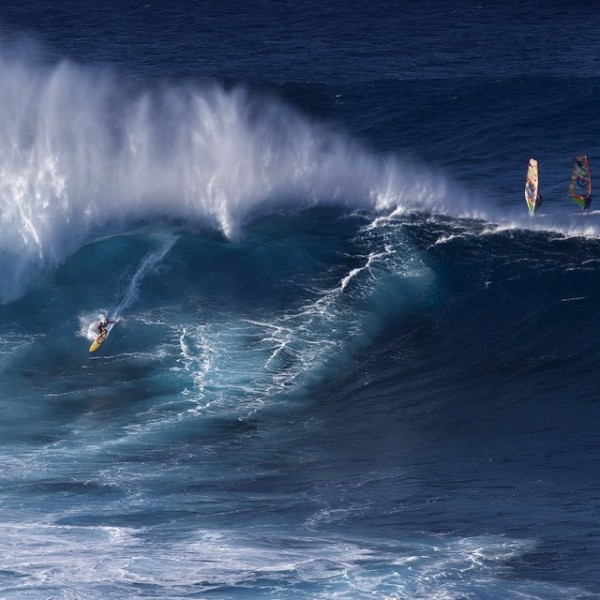 Photo credit: Tim Stice – taken at Peahi, Haiku, Maui "Jaws" on 1/21/15. Jaws is a short 5-minute drive from 705 Kauhikoa Rd.
Full county utilities are on-site with high speed internet via Oceanic Cable, or DSL via Hawaii Telcom. With county water, trash pickup, and a paved road one mile from the Hana Highway, you have quick access to everything. Check out my previous post on why I love my North Shore life.
Maui Property is Valuable – Your Time is Priceless. We List & Sell Property, Properly
Having lived in Haiku since 1978 (I am still on my 5 acres) and raising my 3 children (all born on the property) with my wife, Laura, I truly have a feel for the land, the community, and what it takes to prosper here.
My children are now all successful adults and my son, Jeremy, along with my nephew, Tim, are my business partners in real estate. We work as the "Stice Team" at Hawaii Life Real Estate Brokers and we are the top selling agents in Haiku. We know and love the area, so it is logical that we can best share that love with our clients.
If you want to talk about farming, real estate, surfing, cycling, canoe paddling, or living the Haiku life, please reach out to me. We look forward to sharing more information and details on this great home value. Please contact the Stice Team for more information or your personal viewing.
Aloha from the listing Brokers,
Tracy Stice, R(B) 808.281.5411
Tracy@HawaiiLife.com